People above places and things:
We started out as a novice property owner in 80's. Then in 1992 Hosanna Real Estate Services was established in Eugene, Oregon. Today we have almost 500 units under our umbrella in Central Florida.
We discovered early on that the property management business was callous towards owners, applicants and tenants. As we value people above all else, we determined to establish personalized processes and procedures to insure anyone associated with our business would feel like family.
One of the first things we knew would make a difference was to loosen up on the strict application rules for applying for units. We have all made mistakes in our lives and everyone, at some point in time needs a second chance. (We sure have!) We became known as the 'second chance rental company'. As we serve a 'second chance' kind of God, we have embraced the name the communities have given to us. Now, some people are still in the middle of making their messes and are looking for someone to bail them out. Be asured, that is not us. We've learned a long time ago how notto enable dysfunctional behaviors. Besides, when you get beyond the mess on your own, you learn a whole lot more. Unfortunately, when you set good boundaries with those who are not ready, they think you are unkind. Some of these messy people have snuck past our incoming process and have become tenants. Perhaps you have read their bad reviews about us. ☹These people are ones who never learned how to respect other people's rules.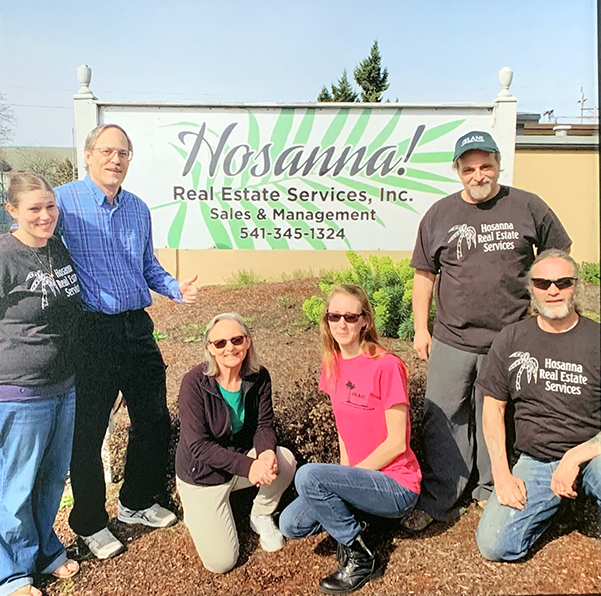 Here's a tenant's success story:
Here's a tenant's success stories:
Jim and Sue got caught up in the meth business. They both became hooked and found the only way to keep themselves supplied was to begin cooking the drugs. They were caught early on, which they are now thankful for, and lost their children to the foster care system while they were ordered into rehab. The thought of losing their children for good petrified them. They took their recovery seriously and graduated on time. Sue got a job as a care provider and Jim began work in a drug and alcohol recovery home as a counselor. However, there was an obstacle to getting their children returned. Housing. No one would rent to them because of their criminal convictions. Enter, Hosanna Real Estate Services, Inc. We gave this precious couple a chance and they got their children back. They rented from us for years, upgrading as they went, until they were able to purchase their own home. Now that's a success story!
We also noticed that other property management companies had absorbent rates and that perhaps we could find our niche here. Because they did not have an internal maintenance staff, they had to use outside professionals, for even the simplest of repairs. For instance, they would use a professional plumber to unclog a toilet. (Even I know how to use a plunger!) They added a mark-up, then charged the owners. So, we pursued having our own maintenance and cleaning staff and only use professionals when it is necessary. We discovered here, too that there are qualified people who needed a second chance job opportunity, have never had their full potential realized or have never had good advice on planning for their future. In this way, we have become a family as much as we have become an employer.
Here's employee's success story:
Lisa was in her late 40's, single and was probably never going to have children and had no family support. She came to work for us and quickly advance in our accounting department, making a more than livable wage. Knowing the importance of real estate investment, especially for retirement, we asked Lisa if she was interested in investing in a home. She answered 'Yes!' of course. Wanting to make sure she got a good deal, we looked for a fixer in the neighborhood she wanted. Once we found a solid home, we purchased it for cash then fixed it up, per her liking. Lisa got pre-qualified for a loan and purchased the home from us, at cost. She immediately had several thousand dollars in equity and has been busy making it her own ever since. When she retires, probably from our company, she'll be set.
Our company is a well-oiled machine that works hard, enjoys a good laugh and the fruits of our labors as well as the complements of many of our tenants and owners. We look out for each other and have become like family. Give us a go and see how you can become a part of the family too.
Tina Novack, owner